In 2016, the Vodafone Ireland Foundation announced a strategic partnership with ISPCC Childline with the joint vision of working towards 'keeping children safe by keeping them connected'.
Ryanair became a charity partner of ISPCC Childline in 2016. In this time, the company has donated over €200,000 to Childline. We have jointly implemented a number of public-facing campaigns to date.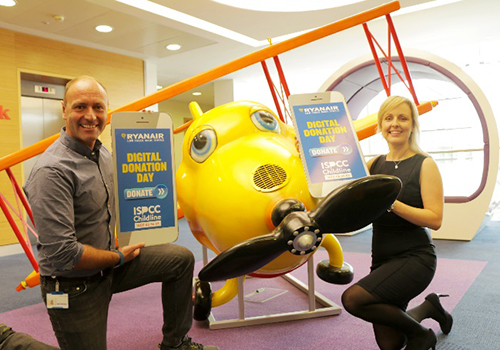 Davy became a corporate supporter of ISPCC Childline in 2018. Over the course of the year so far, Davy has sponsored the recruitment, selection, training and support of volunteers on two ISPCC Childline volunteer development programmes.
As a committed corporate supporter of ISPCC Childline, Intersport Elverys has helped to raise vital funds for the service through a number of innovate in-store promotions and sales.
Through the annual Cheerios Childline Breakfast campaign, Nestle provide significant support to enable ISPCC Childline to keep listening to children 24 hours a day, every day. Businesses, workplaces, organisations, schools and creches take part in the annual fundraising campaign every year and the generosity of all involved is sincerely appreciated.
The ISPCC is delighted to be supported by Keelings, family-owned Irish fruit company.
Throughout 2018, Keelings helped raise vital funds for ISPCC Childline through initiatives ranging from family-friendly events to sales promotions.
Irish soccer legend and ISPCC Childline supporter Robbie Keane and Claudine Keane helped children launch Keelings' celebration of the first Irish strawberries of the season in aid of ISPCC Childline.
The ISPCC has been thrilled to have had the committed support of MCD in recent years.
MCD come together with RTE 2FM every year to host the biggest fundraising event of the ISPCC Childline calendar: the annual RTE 2FM Xmas Ball in aid of the ISPCC.
Headliners to date have included: The Script, The Coronas, Gavin James and many others from the cream of Irish and international music talent.